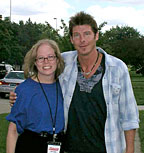 Nancy Rosen with Ty Pennington,
design leader for ABC-TV's
"Extreme Makeover: Home Edition"

"We really would not have gotten
the publicity we did without
your efforts... You are fun
to work with and we'll keep
doing it until we get it right."
Marketing senior vice president
of major bank.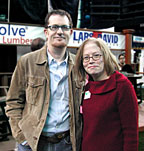 Nancy Rosen with Peter Walsh,
the tough-love professional
organizer on TLC's show
"Clean Sweep" and author
of the New York Times
best seller, "It's All Too Much"

"Thank you for the superb job
you did in marketing our show...
We are very impressed with
all of the newspaper coverage
that the show received."
Show Coordinator


projects

Each practice area requires different strategies and tactics to solve their communication objectives. The following are a few practice areas and the type of services we provide for them:

business and consumer products
brand extension (packaging, sales material and advertising)
marketing and sales management
national public relations campaign
product launch (collateral, direct mail, media relations and web site)
vendor programs for retail chain (national TV, local radio, in-store commercials and product demonstrations)
financial services
awareness/informational releases for new and existing products and services
magazine and in-house newsletter articles
media and crisis training
media relations for anniversary, milestones, branch openings, new board members, new products, personnel and online banking
public relations for community home buying seminars
public service awareness for charitable activities
consumer and industry shows/special events
over two hundred major shows and events in established and new venues
exhibitor sales training
onsite press rooms
promotions, talent selection and sponsorship development
public relations, marketing and advertising
web sites, sales brochures and direct mail programs
real estate
ABC's Extreme Makeover: Home Edition local media relations
ground breaking, grand opening and ongoing special events
major trade magazines, national newspapers, business magazines and local media publicity (Big Builder, Builder, CNN, Time Magazine, Wall Street Journal, etc.)
web sites, marketing materials and direct mail programs
trade associations
building industry public relations counsel for 18 years (association growth to 3rd largest)
awards, conference and seminar announcements
marketing seminars and magazine articles
media and community relations
media and speaker training and speakers bureau
new and existing program development
and more!
---

home · about us · projects · services · contact


---

nancy rosen & company · 33717 woodward avenue #237 · birmingham, michigan 48009
(t) 248.540.3197 · (f) 248.540.2552 (e) info at nancyrosenandcompany.com